Born to parents Jitman Rai and Bimla Rai of Gangtok, East Sikkim, Remanti Rai (30) has completed her Bachelors in Arts and then completed her Post Graduation in History under University of North Bengal. Despite the fact she has no formal training in music, one cannot deny the fact that she has been successful in winning many hearts by her vocal quality and knowledge about music. Since the early age of 6, she started delving into music and exploring different facets of music. Initially, she was much influenced by the bhajans when she attended Bal Bikash of Sri Satya Sai Organisation during her early childhood. Gradually, she found music to be her prior passion and then she started creating a niche and an identity in the tiny Himalayan state of Sikkim. 
Today Remanti Rai stands as a common household name in Sikkim thus making her establish a music academy in her name as 'Remanti Sangeet Academy'.
ETChronicle interacted with Remanti Rai and tried to delve into her journey so far, achievements and future aspirations. Here's the excerpt of her interview.
ETC: What motivated and inspired you to get into music? Is music your passion or profession?
RR: Ah, I guess I was born to live with music and make my music live forever (smiles). 
Talking about motivation and inspiration, I was influenced by Sai bhajans since my early childhood days. I used to attend Bal Bikash from the age of 6, I used to love bhajans and thus sing wholeheartedly. Thus, bhajans really inspired me to devote my life to music I can say. Music has always been my passion, I cannot think about anything more than music. If I think anything apart from music then I believe I'd not be happy and lying myself to the extreme, thus I thought why not turn my passion into a profession, so today music is my profession passionately (laughs)
ETC: Tell us about your journey with music so far?
RR: Journey with music has been amazing for me. From bhajans to all kind of songs I sing these days, but bhajans are something I always connect to. I have grown with music u can assume that (laughs). Until high school, music was just a hobby for me but later I realized music is something more than just a hobby to me, so accordingly I thought to make it a profession. Initially, I lacked confidence while performing, and thus practiced for many hours in front of a mirror but gradually I built up the same and today I believe I stand firm as a confident performer or artist. The journey has been tremendously overwhelming for me. 
ETC: How tough it has been for you to pursue music?
RR: 'When the going gets tough, the tough get going' – this proverb exactly complies to my life as well. Things became easier gradually. 
I have not taken any formal training in music thus my parents felt that I should graduate and then post-graduate and get secured by possessing a government job, which I felt was never my calling actually. I always believed that music is what I was born to pursue. Later with time, I convinced my parents and the rest has been very apparent to everyone now.
ETC: Everyone feels that Sikkim has a very limited scope, market, and platform for music? What's your say?
RR: I truly believe platforms are made by oneself. It is the handwork, dedication and of course, commitment that will bear fruit at last. Here, most of us only sit back with anticipation of someone coming and creating a platform for all but I believe that Sikkim has a brighter side for artists. We just need to introspect and act positively and grave one's ego. Be the best and make good use of the digital platform at this juncture and I guess that is the market for us today. The market for me is to be sincere and value oneself as a brand with consistency. I personally feel future of music in Sikkim is great, just keep the faith alive. 
ETC: To our knowledge, Remanti Rai has accomplished much. Tell us about your achievements, accolades, and awards?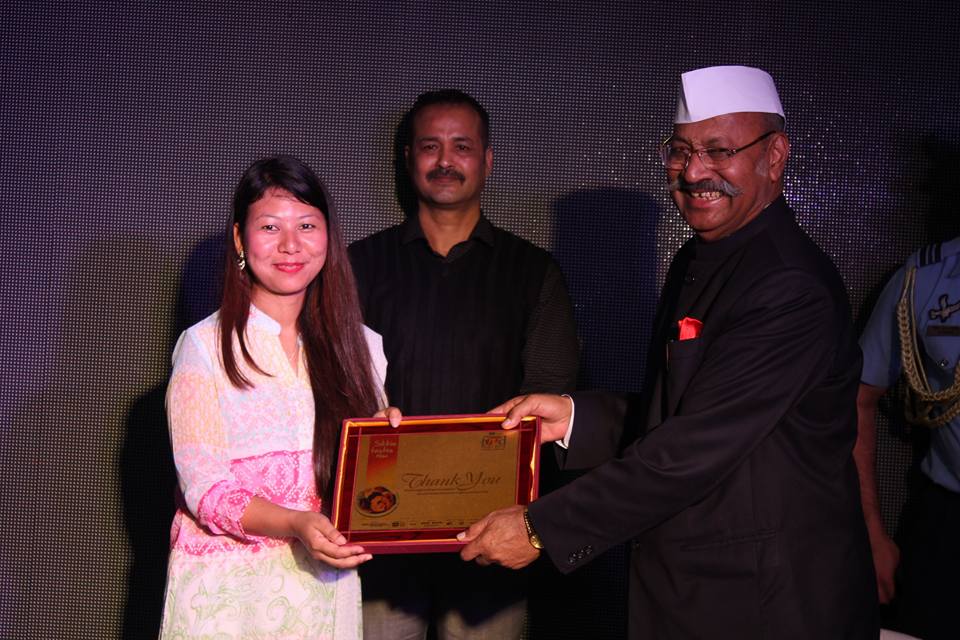 RR: By the grace of God, I have been motivated much by a few awards and appreciations. 
I was conferred with Sikkim Kala Samman (Highest Civilian Award 2013) by Government of Sikkim.
I was also the title winner of North East Superstars organised by North Eastern Council, Government of India. I also judged the North East's Biggest Reality Show " North East Got Talent – Season 2". I have also been conferred with may felicitations by different social organizations of Sikkim. I have many singles released so far and 'Pokhawna Sakina' and 'Mann' are quite popular ones. I have also given playback in a few Nepali movies. 
ETC: Who has been your inspiration and motivation in terms of music?
RR: Music is God or vice versa to me thus God has been my biggest source of inspiration and motivation and everyone around who I have met these long years have inspired and motivated me in one or the other way. Just to name one would be an injustice. 
ETC: Do you compose songs or create music too?
RR: I count myself as luckiest in my career so far. I have received the best compositions and great lyrics which have received an overwhelming response from my fans and well-wishers. Apart from singing I do write and compose songs too but have not brought it in a public domain. Maybe with time I'll bring it up to my fans soon. 
ETC: Tell us about your first venture Remanti Sangeet Academy (RSA)? How difficult was it?
RR: To establish a music academy has always been my dream, it was not too difficult but not a cakewalk either. You start to love hardships if it is something from the heart. Remanti Sangeet Academy is from my heart and it was not an overnight project rather it was pre-planned properly with the entire back up team of Design, Marketing, Advertising,  Administration etc. It is not a business that If I fail today, I'll try something else tomorrow but it is an institution of hope for many music lovers in Sikkim. I won't say it was easy or difficult but yes it was a big challenge for me to turn my dream into reality. Today Remanti Sangeet Academy is so nearer and dearer to me and I have a team who works with much effort to spread love and music in Sikkim. We have 6 mentors in RSA whom I remunerate them for their effort.  RSA has digital classrooms to have sessions with experts through video conference. RSA will send candidates to singing reality shows too. I am also planning to establish RSA branches in south, west and north districts of Sikkim so that we can nurture and nourish more musical genius in the state of Sikkim.
ETC Your former events 'MUKTI' and 'NARI' has been the most successful musical events in Sikkim? Briefly, tell us about it?
RR Mukti and Nari are not just musical events but rather I'd say it is a music-social event where music was made a medium to address the social concerns and issues of society. Both the events were done under my event management company ON AIR. I believe that these two consecutive events have been successful in making people understand and think big about the standard of musical events in Sikkim. The events were done under the themes 'Save a Girl Child' and 'Get Free from Drugs'. Our team is planning to have the event as such this year too so that children of Remanti Sangeet Academy can participate in it accordingly.