Very few people in the world are dead sure about the job they want to do, and Sangam Mukhia, is one of the few. A photographer by profession, Sangam's first brush with photography was in Class 11, when he was studying at SUMI, Kalimpong. He had then just completed his secondary education from St. George's School. He met a photographer named Chinlop Lepcha and was immediately attracted to the work. That year, he also bought his first digital camera and by the time he completed his schooling, he had made up his mind to pursue his passion for photography as his profession.
Although he enrolled as a science student at St. Joseph's College, Darjeeling, he was active in photography exhibitions and competitions. His first paid project was during his first year, where he shot a friend's sister's wedding for a sum of Rupees 1,500.
"Having quit studies to join as a full-time photographer was an arduous journey. It has almost been five years since I started working as a full-time photographer based in Siliguri", he says.
"The struggle was real because my parents felt that photography wasn't a safe job. I am lucky to have I found the right mentor at the right time. Plus, work is always fun when you're interested!" He shares.
Sangam, who is now the official photographer for Mr. Sikkim Manhunt 2019, has a strong portfolio which keeps getting better as he takes on more projects, experimenting to his heart's content each time.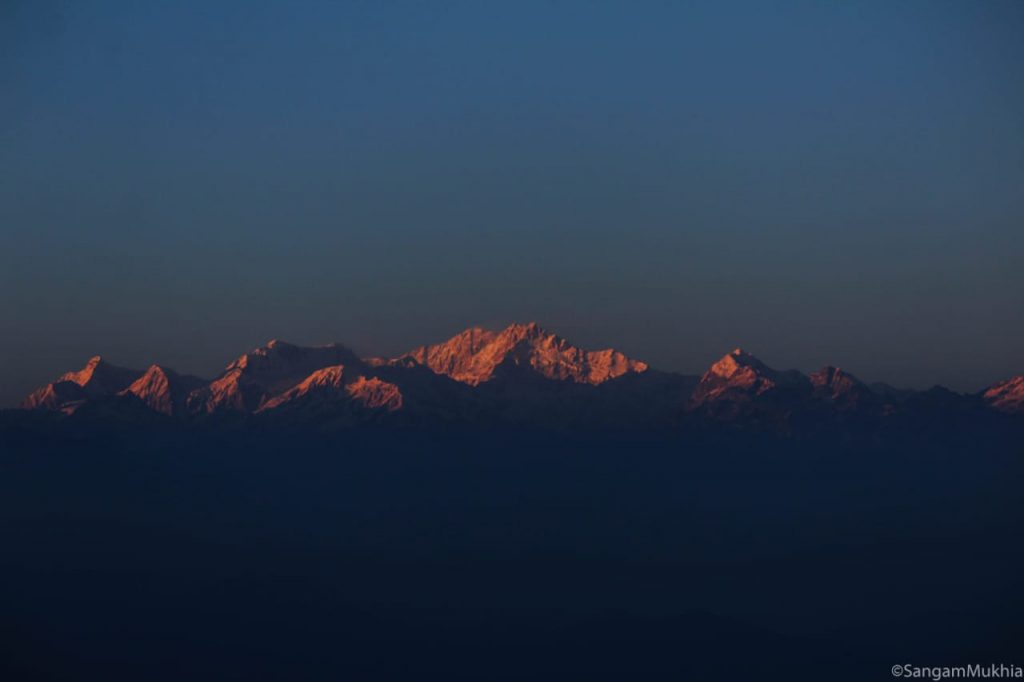 Apart from working as a wedding photographer for more than 80 weddings/pre-weddings in and around North Bengal, Darjeeling and Sikkim, he has done portfolio shoots for Bishal Chettri, winner of Mr Sikkim 2019, Sheetal Rahuja, finalist of Mrs India 2019 and numerous other models. He has also done a cover shoot for the album 'Haat Bazaar' and covered Nakkal Fashion Show shoots (Siliguri) and Mr Sikkim Body Building Championship 2016. Additionally, he has collaborated with various local fashion designers and bloggers, with his work being published in Good News Magazine, Sikkim. Even in the international forum, he has assisted in a Japanese movie called 'Spaghetti Ramen'.
He mentions that his inclination is towards fashion photography, rather than weddings or candid photography, because there is more creativity in it than other events.
"I want to use lots of lights and prefer colours to black and white. I keep experimenting. If I don't, then I think the learning stops", he tells.
On being asked who he would love to work with in the fashion industry, he answers promptly – "Rohan Shrestha!"
"When I was in college, I used to spend more time at Chowrasta than in class. So much so that when I wouldn't go there, my friends used to jokingly say – "Bhanu Bhakta risayo hola, aju talai Chowrasta ma na dekhera". [Bhanu Bhakta (whose statue is at Chowrasta) might have been sad not to see you today at Chowrasta.]
People's appreciation towards his work is what keeps him encouraged. When asked about his inspiration, he cites that Mt. Kanchendzonga is his primary influence.
"I was born in Kalimpong and studied there, but Darjeeling made me into a photographer. I think I took over 5000 photos of Mt. Kanchendzonga! The mountains never changed in structure, but it was still different every day – sometimes pink, sometimes white and sometimes with clouds", he shares.
His skills speak for itself, but it is his passion for his work that remains infectious. Someone who could wake up and find new reasons to capture the same landscape daily but with a different view, will definitely bring the same enthusiasm and creativity to the table in the months ahead while shooting for Mr. Manhunt Sikkim.